Focusing on the challenges and opportunities for women leaders in the contemporary workforce, the New Zealand Women's Leadership Symposium is an unparalleled gathering of New Zealand's best and brightest female talent. During the event, women leaders from every sector and industry come together to hear from an exceptional line up of inspirational guest speakers and explore topics including gender equality, leadership, career advancement and life fulfilment.
Showcasing celebrated and respected women from every field of endeavour, the Symposium is synonymous with excellence and achievement across all facets of business and community leadership.​
PLANNING FOR SUCCESS THROUGH SHARING SUCCESS​
Attended by a veritable who's who of New Zealand organisations, the Symposium represents an accessible platform for businesses to remain connected to the gender equality debate and compare the latest thinking and strategy.​
AN OPPORTUNITY
TO STEP BACK, REFLECT AND FOCUS​
LEARN
Addressing a wide range of topics including gender equality, leadership, career advancement and life fulfillment, the Symposium offers an important opportunity to stay abreast of current local and international trends. Designed to encourage interaction and collaboration, the event creates a setting for women at all levels to reflect on their experiences, envisage a future to which they are entitled and draw inspiration for the journey ahead.
SHARE
Drawing participants from every corner of the nation, the Symposium offers an unrivalled opportunity to extend your networks and develop lasting friendships and alliances. Through the sharing of personal experiences, participants unlock a spirit of camaraderie which typically extends far beyond the event itself. Each year, women from highly diverse backgrounds are drawn together through the Symposium leading to powerful opportunities for collaboration on important national issues.
... AND BE INSPIRED!
Showcasing the country's most respected and celebrated female talent, the Symposium attracts inspirational speakers from a wide range of backgrounds. Richly diverse in their achievements and fields of endeavour, Symposium speakers are universally recognised for their vision, resilience and capacity to influence change. By sharing their unique experience and knowledge, Symposium speakers encourage participants to unlock their innate strengths and talents and pursue their own vision of success.
Seema Kotecha,
NZ Police
[This event] has enabled me to define and articulate some of the ideas and concepts that impact women's development. This has allowed me to consider some practical ways I can contribute and make a difference, and inspire change. Thank you!​
Ashley McDougall,
Contact Energy
This conference has armed me with tools and thoughts that I can take away and utilise in both my personal and professional life. It has helped me highlight my strengths, weaknesses, and key areas such as authenticity and self-doubt that I need to work on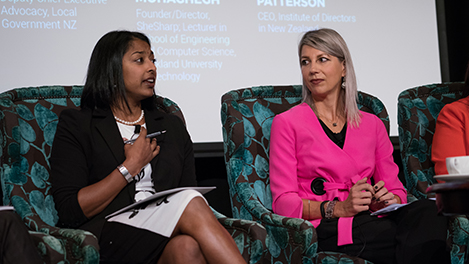 Ana Soakai,
Sanitarium
This program helped me to know and understand who I am. To push things to the limit, knowing that failure is my fuel. To speak out and speak up. Being a female leader is awesome
Maria Pasene,
Pegasus Health
The Symposium has provided me with opportunities to build networks with other women. We have shared our stories and helped each other to resolve issues and challenges in our workplaces. It is great to know we are not alone in our experiences and challenges
Full-Attendance Grants Available
platinum education partner
The New Zealand Women's Leadership
Symposium
Suzi Finkelstein
Director Advocacy and Leadership, Women & Leadership New Zealand
With over twenty years of leadership development experience, Suzi brings a wealth of knowledge and expertise to her role as WLNZ's Program Director. Over an exceptional career, Suzi has built a reputation for designing and delivering quality professional development with a particular focus on transforming the performance of women leaders and their teams. As a development consultant, Suzi has worked across all levels of leadership and management in partnership with many of Australia's leading organisations.
SAMANTHA TOMKINSON
Senior Facilitator and Executive Coach
Samantha Tomkinson began her career as a psychologist in the UK in 2002, and in 2013 she moved to New Zealand and has been supporting the growth of New Zealand leaders with a focus on developing their emotional intelligence. Samantha has worked extensively with senior leaders and organisations across the public and private sectors in both NZ and the UK. She is passionate about bringing the knowledge of human development, neuroscience and her experience as a leader to help others develop their leadership capability and realise their true potential.
TUESDAY 29TH & WEDNESDAY 30TH SEPTEMBER, 2020 - Online
Monday 30th November, 2020 - Face to Face
If you are interested in registering for the event, please email events@wla.edu.au for details.
Dr Chellie Spiller (hapū Matawhaiti Iwitea, Ngāti Kahungunu ki Wairoa)
Professor, University of Waikato; Author and Trainer
Chellie Spiller is a professor at the University of Waikato. Chellie is a passionate and committed advocate for leadership development and she works extensively with organisations across New Zealand and around the world in areas such as 'next level inclusion' and Wayfinding Leadership. She was a guest speaker at Harvard University on "What is great leadership?" Her latest co-edited book, published in 2020, focuses on practical wisdom from Indigenous, Asian and Middle Eastern perspectives.
Frances
Arns
Executive Director, RainbowYOUTH
MELODIE ROBINSON
Sports Journalist, Commentator, Presenter, Former Black Ferns Rugby Union Player
LISA
KING
Founder, Eat My Lunch
DR MICHELLE DICKINSON MNZM
Founder Nanogirl Labs
MAVIS
MULLINS MNZM
Trustee, Rangitane Tu Mai Ra; Board Member
CR JOSEPHINE BARTLEY
Councillor, Auckland Council; First Pasifika woman elected to serve as an Auckland Councillor
ANGELA SWANN-CRONIN
Pilot, Air New Zealand; First and only Māori woman to become a pilot in the New Zealand Air Force
The Topp
Twins MNZM
Award-winning NZ Entertainers and Activists
SUZY
CATO
Television Presenter, Radio Host & Children's Entertainer
KAREN
WALKER CNZM
Entrepreneur and Fashion Designer
KATIE
MACDIARMID
General Manager, Digital Products, NZME.
Katie
Mills
Chief Marketing Officer, NZME
JULES
BENTON
CEO, Dairy Women's Network
EMILY
HENLEIN
Executive General Manager of Design, Xero
CHARLOTTE LOCKHART
CEO, The 4 Day Week; 2019 Women of Influence Global Award Finalist
HON JULIE ANNE GENTER MP
Minister for Women, New Zealand Parliament
SUZANNE MCNABB
President, UN Women Aotearoa New Zealand
CATHERINE
FOX
Journalist, Author and Walkley Award Winner; Director of Diversity, Women & Leadership Australia