Suzi Finkelstein
Director Advocacy and Leadership, Women & Leadership New Zealand
With over twenty years of leadership development experience, Suzi brings a wealth of knowledge and expertise to her role as WLNZ's Program Director. Over an exceptional career, Suzi has built a reputation for designing and delivering quality professional development with a particular focus on transforming the performance of women leaders and their teams. As a development consultant, Suzi has worked across all levels of leadership and management in partnership with many of Australia's leading organisations.
Focusing on the challenges and opportunities for women leaders in the contemporary workforce, the New Zealand Women's Leadership Symposium is an unparalleled gathering of New Zealand's best and brightest female talent. During the event, women leaders from every sector and industry come together to hear from an exceptional line up of inspirational guest speakers and explore topics including gender equality, leadership, career advancement and life fulfilment.
Cecilia
Robinson
Founder & Director, My Food Bag; Supreme Winner of the 2017 Women of Influence Awards ​
Georgina
Beyer
World's First Transgender Mayor and Member of Parliament ​
Paula Tesoriero MNZM
New Zealand Disability Rights Commissioner; Former Paralympian ​
Tiana
Epati
President-Elect, New Zealand Law Society; Partner, Rishworth, Wall & Mathieson
Dame Valerie Adams DNZM
Athlete, Olympic Gold Medallist, World Shot Put Champion​
Colonel Helen Cooper
Deputy Chief of Army, New Zealand Defence Force
TracI
Houpapa MNZM
Award-winning Company Director and Executive Chairman ​
Jackie
Clark
Founder, The Aunties; Supreme Winner, 2018 Women of Influence Awards
Assistant Commissioner Tusha Penny
Response and Operations, NZ Police
Russell Ballantyne
President, EC-MENz; Early Childhood Educator ​
Pip
Buunk
Drilling Supervisor, Fulton Hogan; 2018 Tradeswoman of the Year
HER EXCELLENCY THE RIGHT HON DAME PATSY REDDY GNZM, QSO
Governor-General of New Zealand
Rochelle Martin MNZM
National Manager Recruitment, Fire and Emergency NZ; Former Captain, Black Ferns
Alexia Hilbertidou
Founder and Director, GirlBoss NZ
Anika
Moa
Recording Artist and TV Presenter
Showcasing celebrated and respected women from every field of endeavour, the Symposium is synonymous with excellence and achievement across all facets of business and community leadership.​
PLANNING FOR SUCCESS THROUGH SHARING SUCCESS​
Attended by a veritable who's who of New Zealand organisations, the Symposium represents an accessible platform for businesses to remain connected to the gender equality debate and compare the latest thinking and strategy.​
AN OPPORTUNITY
TO STEP BACK, REFLECT AND FOCUS​
LEARN
Addressing a wide range of topics including gender equality, leadership, career advancement and life fulfillment, the Symposium offers an important opportunity to stay abreast of current local and international trends. Designed to encourage interaction and collaboration, the event creates a setting for women at all levels to reflect on their experiences, envisage a future to which they are entitled and draw inspiration for the journey ahead.
SHARE
Drawing participants from every corner of the nation, the Symposium offers an unrivalled opportunity to extend your networks and develop lasting friendships and alliances. Through the sharing of personal experiences, participants unlock a spirit of camaraderie which typically extends far beyond the event itself. Each year, women from highly diverse backgrounds are drawn together through the Symposium leading to powerful opportunities for collaboration on important national issues.
... AND BE INSPIRED!
Showcasing the country's most respected and celebrated female talent, the Symposium attracts inspirational speakers from a wide range of backgrounds. Richly diverse in their achievements and fields of endeavour, Symposium speakers are universally recognised for their vision, resilience and capacity to influence change. By sharing their unique experience and knowledge, Symposium speakers encourage participants to unlock their innate strengths and talents and pursue their own vision of success.
DrSue WatsoN
Senior Facilitator and Executive Coach, WLNZ
Dr Sue Watson is an experienced leadership development expert who draws on her own leadership experience and her academic background in education and research to develop and deliver highly engaging and effective leadership development programmes. She is motivated by her purpose: inspiring and equipping the next generation of female leaders.
The 2020 Women's
Leadership Symposium
LAUNCHING OCTOBER 2019
Seema Kotecha,
NZ Police
[This event] has enabled me to define and articulate some of the ideas and concepts that impact women's development. This has allowed me to consider some practical ways I can contribute and make a difference, and inspire change. Thank you!​
Ashley McDougall,
Contact Energy
This conference has armed me with tools and thoughts that I can take away and utilise in both my personal and professional life. It has helped me highlight my strengths, weaknesses, and key areas such as authenticity and self-doubt that I need to work on
Ana Soakai,
Sanitarium
This program helped me to know and understand who I am. To push things to the limit, knowing that failure is my fuel. To speak out and speak up. Being a female leader is awesome
Maria Pasene,
Pegasus Health
The Symposium has provided me with opportunities to build networks with other women. We have shared our stories and helped each other to resolve issues and challenges in our workplaces. It is great to know we are not alone in our experiences and challenges
DR SIOUXSIE WILES
Microbiologist and Science Communicator; Associate Professor, The University of Auckland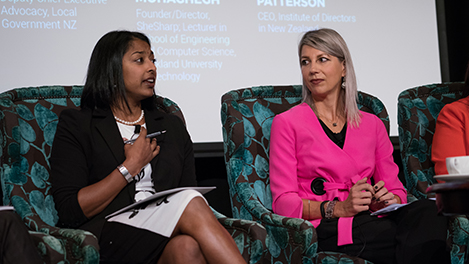 DR Angela
lim
CEO and Co-Founder, Clearhead; Doctor and Board Member
Miriyana Alexander
Journalist & Premium Content Editor, NZ Herald